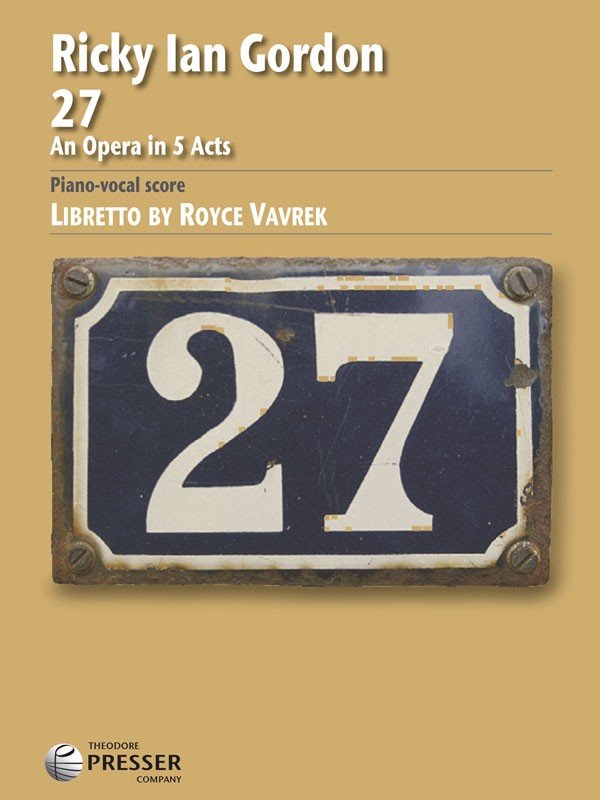 An Opera in Five Acts
Libretto by Royce Vavrek
Published by Theodore Presser Company
Duration: 95 min.
Voices: Mezzo-soprano, 4 supporting singers (Soprano, Tenor, Baritone, Bass-Baritone, singing a variety of roles)
Instrumentation: 2(2nd dbl. Picc.) 2(2nd dbl. E.H.) 2 2(2nd dbl. Cbsn.) AltoSax. – 2 2 2(2nd dbl. B. Tbn.) 0; Timp. 2Perc. Hp. Pno. Str. (6.4.4.3.2)
Premiere: June 14, 17, 19, 25, 27, and 29, 2014. Opera Theatre of St. Louis, Stephanie Blythe, mezzo-soprano; St. Louis, MO.
Commission: Commissioned by Opera Theatre of St. Louis
Perusal Score: Acts 1-2 | Acts 3-5
Purchasing: Piano Reduction/Vocal Score | Choral Parts
Rental: Full Score | Optional Choral Parts
Program Notes from the Composer
written for the world premiere, 2014
When James Robinson asked me to write an opera for the great Stephanie Blythe, I thought immediately of a lifelong obsession, Gertrude Stein. At Carnegie Mellon University, at the age of seventeen, I picked up the book Charmed Circle just before catching a terrible cold, and read it in the course of a week in bed. I remember nothing that week but eating tangerines and reading about Gertrude and Alice and their milieu. I was mesmerized by their world. Gertrude was in many ways a perfect role model. She was committed to her own muse, ruggedly individual, unswayed by others' opinions, and uninhibited in terms of being who she was, loving whom she loved, weighing what she weighed, having opinions and facing the repercussions of them bravely. She loved beauty and was constantly interpreting and reinterpreting what she thought was beautiful. Mostly, she believed in herself with such rigor it fascinated me. And her world – the habitués of her salon, Picasso, Matisse, Hemingway, Fitzgerald, anyone who was doing anything of interest, thinking anything worth thinking – came through her Paris salon at 27 rue de Fleurus, until finally, it was Alice who came through and stole her heart. I believe I was meant to write an opera about these two, about their world, because it what I wanted my world to be. When I left school, I held salons in my New York apartment. Everything I wrote, I premiered there.
In Royce Vavrek I found the perfect librettist. Making characters out of these two, creating a "story" – a "narrative" – out of events in their world, and compressing it into ninety minutes is quite a challenge. I didn't want to bring Gertrude to life through her writings, as Virgil Thomson and so many others already had. I wanted to bring the woman to life, to create a sense of who she was, what she felt, how she and Alice lived their lives and related to one another and to the denizens of their world. Gertrude found her life in Paris with and through her brother Leo, but Leo couldn't find himself, and was threatened by Alice and by Gertrude's ascension as a writer. He saw in Alice a hundred percent commitment to his sister whom he could never support so completely. Royce used Alice's knitting – an appropriate musical gesture – and her loneliness after Gertrude has died, as a departure point, and wove together a stream of events, narrowing down the collection of people to the few who seemed seminal, and using the World Wars as brackets to give us a sense of who and what they were, and what their struggles and delights were. Right at the outset I told Royce not to whitewash her – as there is speculation as to HOW they stayed safe during the war, being both Jewish and lesbian. And the paintings were so alive, they should sing! And he didn't and they do…
I was almost in a trance composing this opera. I was excited to play it for anyone I could, because it felt so alive. It was of course, a great pleasure, hearing Stephanie's voice in my head as I wrote it, as well as that of my dear friend Elizabeth Futral, who was cast early as Alice. I hope this opera is as much of a pleasure for the audience as it was to create.
Addendum
written for the NYC Premiere with MasterVoices
When the Collegiate Chorale (now MasterVoices) performed the suite I prepared for them with Ted Sperling and a slew of wonderful friends and artists, including Jane Fonda!, at Carnegie Hall in 2010, it was one of the most rewarding experiences of my musical life. I had this idea that my newer opera "27" would be a great piece to do with them as well, because even though the cast was only five, it was essentially written chorally. The three men who play all the characters, other than Gertrude and Alice, denizens of the salon, doughboys, soldiers, paintings…are often singing in three part harmony and I knew I could expand that texture and I felt excited about it. The fact that this is the 75th anniversary season for MasterVoices made it all the more special and I am so happy they agreed and allowed me to do the arrangement. It feels like such a great way for the piece to make its NYC premiere. With people I love who I have made music with in such a deep intimate way before, and with such an expanded musical palette! I got to beef up all the climaxes as well as create a character for the chorus throughout the piece that felt appropriate to the piece as opposed to an artificial appliqué. Sometimes things work out. Though I have not yet heard the new version myself except in my head, I am very much looking forward to sharing it with my hometown.
Michigan Opera Theatre
2018
Photos by Mitch Carter.
Opera Theatre of St. Louis
Premiere Production, 2014
Photos by Ken Howard and David Levy.
New York City Center
2016
Photos by Erin Baiano
Pittsburgh Opera
2016
Photos by David Bachman