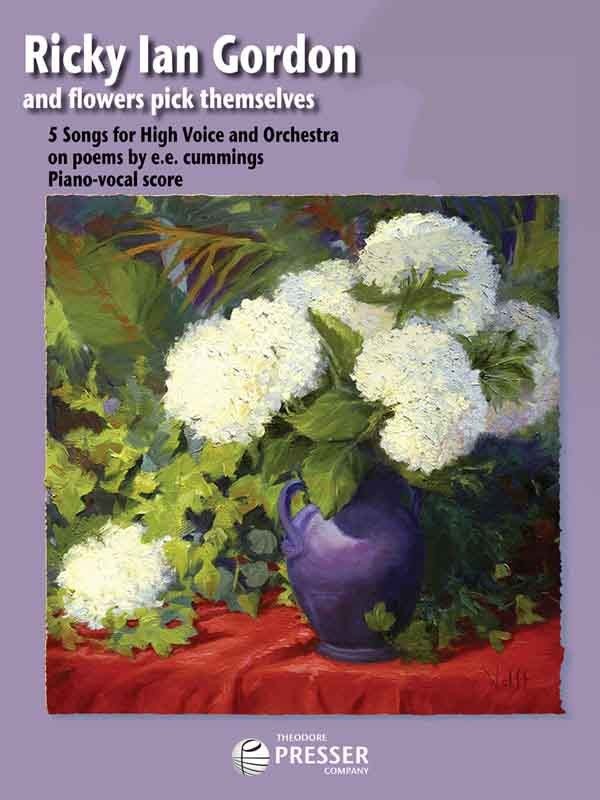 and flowers pick themselves
5 Songs for High Voice and Orchestra on poems by e.e. cummings
Texts by e.e. cummings
Published by Theodore Presser Company
Duration: 21 min.
Voices: High Voice
Instrumentation: Solo Piano OR Solo High Vx.; 3(Picc.) 3(E.H.) 3(B.Cl.) 2 – 4 3 3 1; Timp. 3Perc. Hp. Str.
Premiere: October 29, 2005. Melanie Helton, soprano, Michigan State University Orchestra, conducted by Raphael Jiminez; East Lansing, MI
Commission: A Michigan State University Sesquicentennial Commission Funded by the Office for Research and Graduate Affairs and the College of Arts and Letters for Melanie Helton
Purchasing: Piano/Vocal Score
Rental: Voice & Orchestra
---
Songs:
1. i thank You God for most this amazing
2. why did you go
3. Thy fingers make early flowers of
4. anyone lived in a pretty how town
5. who knows if the moon's a balloon
Notes: A vibrant song cycle for high voice and orchestra, now published in piano reduction, inspired by the sparkling and playful poetry by e.e. cummings and set to music by the renowned Ricky Ian Gordon, composer of critically-acclaimed opera The Grapes of Wrath and many other works. Dur.: 21' Orchestral score and parts are available on rental.
Errata
These are corrections to the edition published by Theodore Presser Co.
"i thank you god for most this amazing"
Bar 80-the 2nd note in the L.H. should be a C (M2nd up)
Bar 81-the 2nd note should be a D(M3rd up)
"thy fingers make early flowers of"
Bar 34, the C in the L.H. at the end of the Bar should be tied to the chord in 35
"anyone lived in a pretty how town"
Page 21, Bar 97: There is an upper layer in the L.H which should be an eighth rest, an G, quarter note, first line, and then an A quarter note, first space, and then a G eighth note, first line, tied to the next bar…a G half note the lower voice should just be an eighth rest, and then a C eighth note tied to a C half note which ties to the next bar…as a half note… the top line should be slurred (PDF example)
"why did you go"
Page 9, Bar 21, the C octave in the L.H. on beat one should be 8vb
Bar 24, the 2nd beat in the L.H., the F should be up an octave so the interval is a 7th