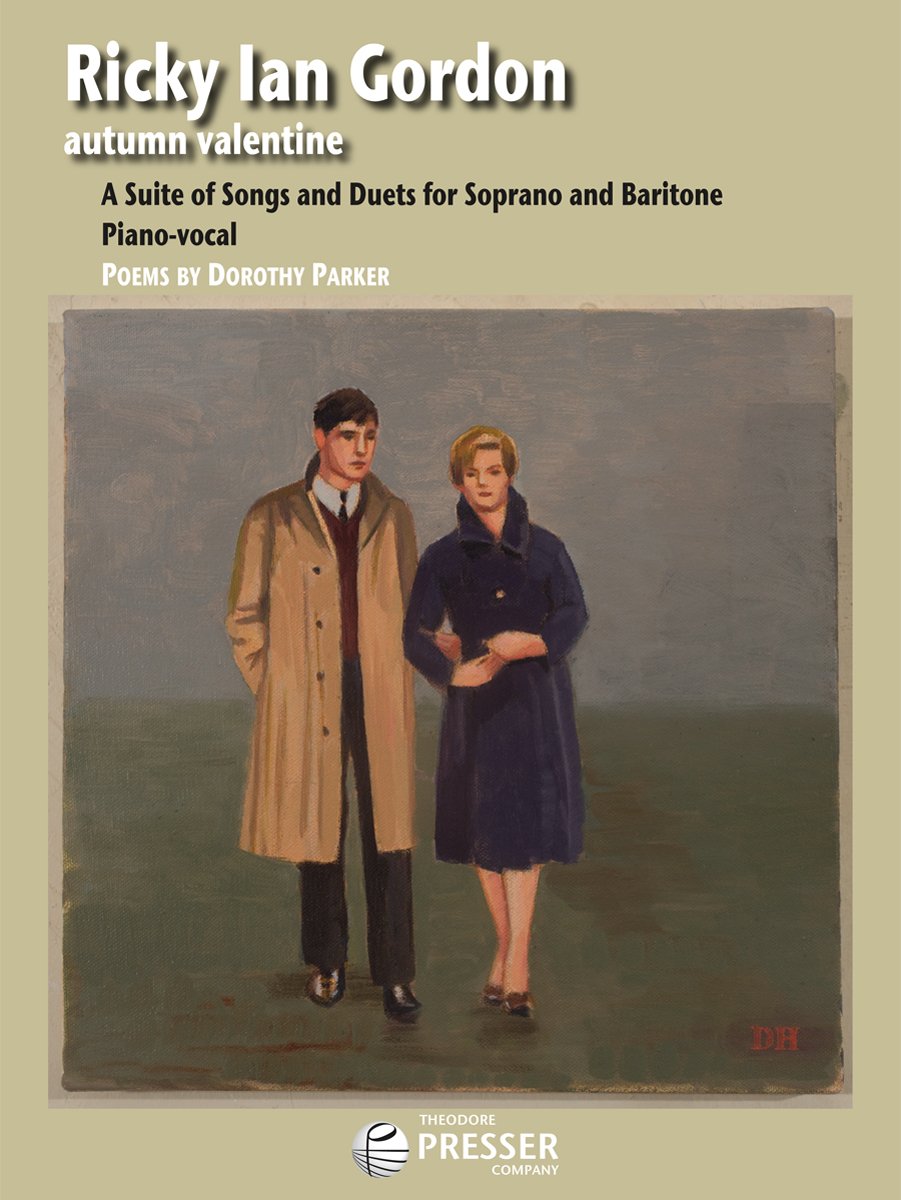 A Suite of Songs and Duets for Soprano and Baritone
Text by Dorothy Parker
Published by Theodore Presser Company
Duration: 40 min.
Voices: Soprano, Baritone
Instrumentation: Solo Piano OR Fl. Cl. Tbn. Pno. Vcl. Perc.
Premiere: March 15, 1994. Robert Kapilow, conductor, Angelina Reaux, soprano, Michael Solok, baritone
Commission: Commissioned by Opera Omaha for the Fall Festival 1992
Purchasing: Piano/Vocal Score
Rental: Soprano, Baritone, and Orchestra
Notes: Gordon's Autumn Valentine was created in collaboration with the premiering artists: soprano Angelina Réaux, baritone Michael Sokol, and director Keith Warner, all poring over the short stories and poems of Dorothy Parker. In the end, Gordon composed a cycle of eleven songs and duets which tell the tale of a failed marriage. Unlike traditional opera, in Autumn Valentine, no one dies.
Press
Gordon's music seemed perfectly matched to Parker's sarcasm and quicksilver mood swings…there was a freshness and originality… one of Gordon's 11 songs, "Lullaby," was stunning.
– Jeff Bradley, Denver Post
Gordon's songs were richly varied in soaring lyricism and inventive humor."
– Robert G. Ruetz, Opera News
Ricky Ian Gordon's music has depth and substance, and he managed the difficult task of communicating Miss Parker's complicated emotions while not obscuring the clarity of her words. One hearing does not do his music justice."
– Kyle Macmillan, Omaha World Herald
That Mr. Gordon's compositions did not jar alongside an odd Gershwin or Porter tune is high praise. His "Lullaby," was especially delightful, using metrical and rhythmic complexity to achieve a mellow relaxation.
– James R. Oestreich, The New York Times
Errata
The Red Dress
Bar 21, beat 2, LH: the D sharp should be D natural.