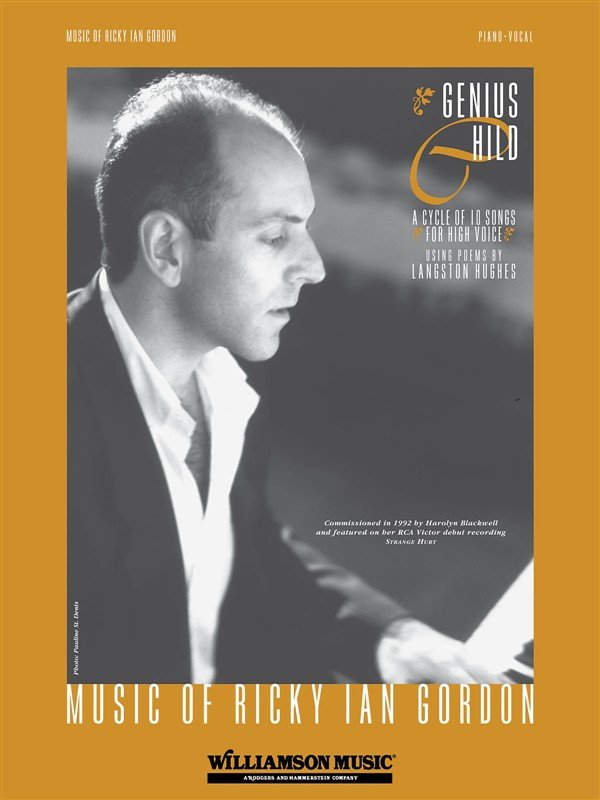 Cycle of 10 songs for high voice and piano
Texts by Langston Hughes
Published by Hal Leonard/Williamson Music
Duration: 28 min.
Premiere: March 1993; Harolyn Blackwell, soprano; Neal Goren, piano; Weill Recital Hall, Carnegie Hall, NYC
Commission: for soprano Harolyn Blackwell
Purchasing: Piano/Vocal Score
Songs:
Border Line
Genius Child
Joy
Kid In The Park
My People
Prayer
Strange Hurt
To Be Somebody
Troubled Woman
Winter Moon
Press
Gordon has found a musical idiom that echoes with uncanny precision Hughes' distinctive tone, with it's plainspokenness and humor revealing a vein of deep sadness.His melodies can be puckish or moody, but their seeming directness, like Hughes' pared down language, can be deceptive, taking unexpected turns at any moment. The harmonic language has it's roots in popular tonality, but again, Gordon colors his chords richly and in surprising ways.
With this musical sympathy, Gordon catches Hughes' specific moods, from the off-kilter rhythmic energy , or the gospel tinged exuberance, to the wonderful melancholy…
– Joshua Kosman, San Francisco Chronicle
The good news: Gordon's "Genius Child," is one of the freshest English language song cycles to come along in recent memory.
– Terry Teachout, The Daily News
"Mr. Gordon writes in a soaring, sophisticated but unpretentious "Crossover" style that seemed wonderfully apt for the material… I felt I had witnessed as perfect a fusion of words, music and performance as I can remember.
– Charles Michener, The New York Observer
Ms. Blackwell's admirable sense of scale was matched by Mr. Gordon's "Genius Child."The music circles tonal centers, and the allusions to postwar jazz chords are unequivocal but never blatant. Mr. Gordon also catches the tone of each poem; some aphoristic and laconic, others played as large- scale dramatic set pieces.
– Bernard Holland, The New York Times
Beautifully crafted, in performance this cycle had everything- rich text, inspired musical invention…
– Marjorie Pettit, The Royal Gazette
In the U.S. premiere of the Gordon cycle, Blackwell enjoyed music that showed off her versatility to great effect. In a post-Copland tradition, the songs proved varied in mood and meter, sparsely written with wide but not jarring intervals and eminently singable, even compelling.
– John Henken, The Los Angeles Times
Errata
These are corrections to the edition published by Hal Leonard/Williamson Music
"Winter Moon"
Pg-5-bar 13, R.H. of piano should be F natural at the top, not flat.
"Genius Child"
Page 8, Bar 26, the first chord in the R.H should read, from the top down, Ab, Gb, and A natural.
"Troubled Woman"
Pg-20-bars 36 and 37, in the vocal line…the G should just be tied to a G…not go down to an F!
"Prayer"
Pg-31-bar 22, add ties in the left hand G and D.
measure 22, The A (in the piano part/accompaniment) is an A natural
"My People"
Pg-45-bar 23, the first octave in the left hand should be G natural!
"Joy"
page 53, measure 73, the second middle C in the accompaniment should be a quarter note