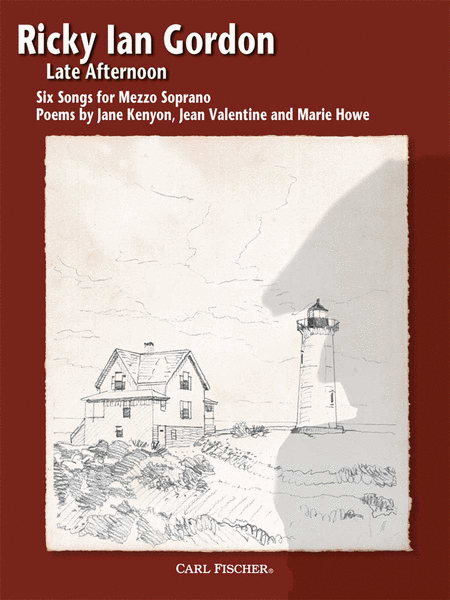 Six songs for mezzo-soprano
Texts by Jane Kenyon, Jean Valentine, Marie Howe
Carl Fischer Music
Duration: 24 min.
Premiere: May 10th, 2000; Maragaret Lattirnore, Mezzo Soprano, Ricky Ian Gordon, Piano; The 92nd Street Y, NYC
Commission: Commissioned by Tisch Center for the Arts at the 92nd Street Y and made possible by the Mary Flagler Charitable Trust
Purchasing: Piano/Vocal Score
Notes:
This is a heartfelt cycle of songs by Ricky Ian Gordon set the poetry of three important American poets, Jane Kenyon, Jean Valentine and Marie Howe. After a major personal loss, Gordon turned to the poetry of these women who speak of loss and death in a way that he found particularly consoling. The songs are beautifully written for a medium voice with Gordon's usual care. A dissonant and colorful keyboard part is a great enhancement to the generally reflective tone of the music. Gordon's moving setting of the late Jane Kenyon's heartbreaking Let Everyone Come is destined to be a recital classic.
Errata
These are corrections to the edition published by Carl Fischer LLC
"What The Living Do"
Page 38, Bar 90…the 7th note in the vocal line, over the syllable "cor-" of "corner" should be a D a step up, not a C
"Willi, Home"
Page 12, Bar 35…should be two bars, the 32nds should be 16ths and the 8ths should be quarters and the last quarter should be a half note…see attachment below…
Click here for a PDF of the corrected bars
"X"
Page 22, Bar 59…L.H., the 2nd Gb should be tied to the third Gb
page 23, bar 63, the lyric should be (at the edge of the ocean), not "end"
in Bar 66…the Bb of "oc" in the vocal line, should be tied to another half note Bb through Bar 66, and then through beats 1 and 2 of Bar 67, and resolve to a G for "cean" at beat 3 of Bar 67 and hold through beat 3 of Bar 69, cutting off before the finall gesture (at the pause sign)
"Just Now"
Page 28, Bar 44…in the vocal line, the notes for "left me" should be A's, not F's (staying the same as the previous A under "you've")
"What The Living Do"
Page 29, Bar 5…in the vocal line, after "days" there should be a half note rest and "some u-" should be eighth notes, not a quarter and a half…
"Let Evening Come"
Page 44, Bar 30…in the L.H. the 5th note should be a G natural, not a flat
Bar 46…in the R.H., the first chord should have a C SHARP at the bottom, not natural
"Otherwise"
page 8, Bar 12, the first note in the vocal line should be a G (step above), not an F