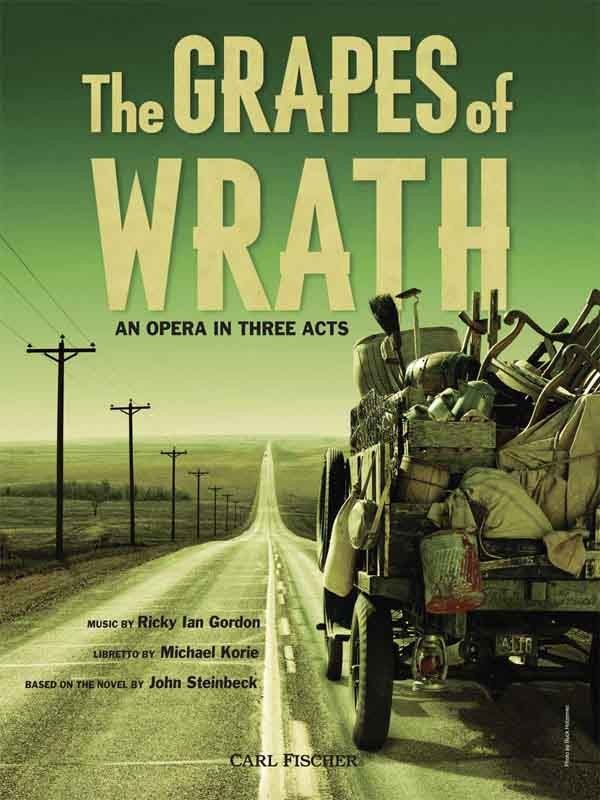 Suite from "Grapes of Wrath"
For Chorus and Orchestra
(2007)
Libretto by Michael Korie
Published by Theodore Presser Company
Duration: 60 min.
Instrumentation: 2(Picc.) 2(E.H.) 2(Eb Cl./B.Cl) 2(Cbsn.) A.Sax. T.Sax. – 4 3 3(B.Tbn.) 1; Timp. Perc. Gtr. Harmonica. Synth. Hp. Str.
Premiere: May 18th, 2008. Los Angeles Master Chorale, conducted by Grant Gershon; Walt Disney Concert Hall, Los Angeles, CA.
Commission: Commissioned by LA Master Chorale
Rental: Theodore Presser Company
Notes:
John Steinbeck's classic tale of the Joad family's odyssey from drought stricken Oklahoma to the illusory "green pastures" of southern California is one of the great stories of survival. Full of fully-rounded, three-dimensional characters, some of whom die on the way and some of whom suffer and grow on the road to the "promised land," the opera is remarkably faithful to the book. From the stirring opening chorus, "The Last Time There Was Rain," to the remarkable final scene in which Rosasharn, whose baby has been stillborn, nurses a dying man, this large-scale opera preserves the biblical and socially progressive underpinnings of Steinbeck's Pulitzer Prize winning book.